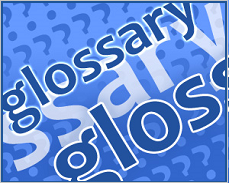 Mattress Glossary: Industry Terminology. Let's dive into some industry terms so you will understand what those mattress makers are trying to say to you.
Store Directory
How Can We Help

We are here to help, so please let us know what we can do to make your dreams come true!
Customer service is a high priority with us and we want you to be happy with your purchases. We believe you deserve great care by our experienced staff when shopping for mattresses and bedding accessories, and we will deliver on that promise. Let us pamper you today!
We Make Shopping Fun
We know that shopping for a new mattress or bedding accessory can be overwhelming & tiring!
We want to help you have fun while learning about the new technologies, and cut through the tech talk to the real facts about comfort versus support; different material types, and the reasons they are used in the bedding world!
Mattress Professor
Welcome to the Mattress Professor learning system by The Sleep Center Mattress Superstores! As the mattress experts, we understand the mattress industry quite well and we want you to also. We know it can be overwhelming shopping for your new mattress system but with a little help, you will be mattress experts, too!
We think you will enjoy yourself and find the information easy to follow, so sit back and take a few minutes to review. Stop back often as we will be adding more mattress lessons, and please contact any of our stores for additional help or to answer any questions.
We are here to help you any way we can; please do not hesitate to seek our help!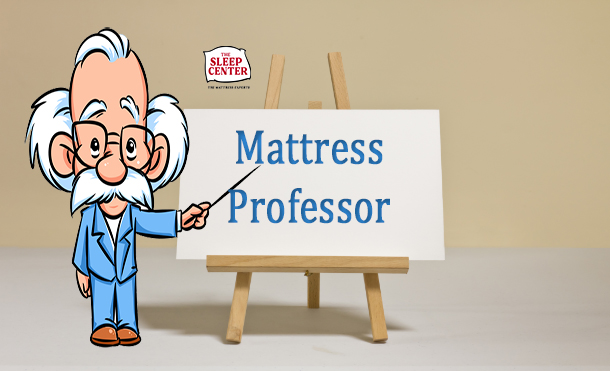 Study Course 1: Comfort & Support. No matter what words or products any salesperson pushes on you, these two points are what it all boils down to, so we will begin here with our Mattress Professor Comfort & Support lesson.
Support. It takes a certain amount of support to resist sag from the weight of your body and to hold your back properly in place, which is critical. A soft, balanced resistance to hold your body from falling to the ground, while at the same time counteracting your body's weight from gravitational pull.
Comfort. It requires a varying degree of comfort to relieve pressure points, allowing proper blood circulation while you are supported and to provide you with a truly restful sleep surface.
You will want to preserve these two basic principles while shopping for your next mattress. If you compromise on either one of these important mattress principles, your sleep will suffer and you will be back shopping for a new mattress in no time at all. All of our experienced sleep consultants know to always keep these principles in mind while you "Test Rest" various models on our showroom floors. It is why we carry many different makes, models and types of mattresses. This is one of the reasons we feel there are better ways to shop for a new mattress, than online mattress shopping. Each mattress is different, and your body type and lifestyle greatly affects what the best mattress for you will be, so take your time and don't compromise on such an important purchase!
Factoid - Your mattress should be evaluated for replacement every 7-10 years.

Study Course 2: Comfort Descriptions. Let's talk a little more about comfort and how that relates to the comfort descriptions with the mattresses you will be finding in the stores you visit. The three basic Comfort descriptions will be:
Soft. These utilize multiple layers of soft, supple materials to give you that ultra-soft feel that you sink into.
Medium. These typically utilize much less soft material on top of the mattress, while maintaining a firmer support system with bit of cushioning, so that you don't sink into the surface.
Firm. These typically utilize very little soft material and incorporate denser, firmer materials and are the closest to a flat sleeping surface.
Keeping these three basic Comfort descriptions in mind, we will break into more comfort types marketed today. These mostly fit into the three descriptions above, but become a little more specialized.
Plush. These utilize a firm sleeping surface with soft layers to cushion without being ultra-soft.
Euro Top/Pillow Top. These utilize a separate layer of soft material on top of the support system of a mattress. Usually, Euro Top offers less of it, whereas a Pillow Top provides more.
A firm bed should not be considered hard. It will still give slightly but very solid feeling without much give when pressed on. While conventional wisdom has always maintained a firm mattress for a person with a bad back, since it would appear to offer more support, this is not necessarily the case. Body shape, weight, and type, along with sleep habits and other health factors, all play a part in matching you with the ideal mattress. A back sleeper (one that sleeps on their back) may benefit from a firmer mattress. A Test Rest at one of our local mattress stores will help in determining this.
As with a firm mattress, a soft mattress is often misunderstood. In general, soft mattresses utilize multiple layers of materials to build up the soft feel, which can be bad for a stomach or back sleeper since some spines may not get the support it needs. If you are a side sleeper, you could be an ideal candidate for a soft mattress.
When in doubt, start with a medium type mattress and see how it feels. Most manufacturers aim for the middle of comfort scales with these types, so you get support and a soft layer or two to tone down their firm mattress. You may find the best fit with a medium type mattress, which may also last longer than the other comfort types.
But again, without a Test Rest and some assistance in understanding your needs, you could easily end up with the wrong mattress. Rest assured, at The Sleep Center, we will take the time to properly match you with the very best mattress for you and we will offer trial nights in your home as an added safeguard to ensure you are absolutely comfortable and completely happy with your new mattress.
Factoid - Sleep quality improves when you eliminate pressure points on your body.

Study Course 3: Mattress Descriptions. Let's talk a little more about support and how that relates to the mattress descriptions you will be finding in the stores.
Innerspring. These utilize some type of a steel alloy coil support system and vary greatly by manufacturer and model. The wire gauge, coil construction and coil count all affect the outcome, but none of these should be the only concern when determining quality. However, they all play a part in the overall mattress system's design and end result of that specific design goal.
Hybrid. These utilize a combination of materials, such as a steel coil support system with the addition of gel, foam, latex, etc. This is not a standardized term. The combination of materials will be different from manufacturer to manufacturer and even from mattress to mattress.
Foam. These utilize foam as their support & comfort system. There are variations in the foam material that must be reviewed for the properties & end goal of the use of them. These factors, such as manufacturing methods and densities, will affect your comfort level and overall support.
Gel. These utilize one of the latest breakthroughs in mattress components. By infusing gel into foam, latex or other materials, it provides the prospect of cooling properties, it may offer as well as, additional buoyant support it adds to the material it is infused with.
Memory Foam. These utilize an visco-elastic foam that contours & cradles your body and is often called Visco-Elastic Memory Foam. Memory Foam uses a different cellular composition than traditional foams and is also temperature sensitive allowing the foam to conform even better once lied on.
Latex. These utilize milk frothed saps from Rubber tress and are typically blended with some form of a synthetic latex to provide a much stronger molecular bond, than natural latex by itself. There are several different processes to cultivate Latex from a tree sap to the finished product. The three most commonly used are Talalay, Dunlop and Continuous.
Tempur. These utilize a revolutionary material first invented by NASA to help relieve the strong G-forces astronauts experienced during takeoffs that transformed the mattress world. Tempur-Pedic is the only brand of mattress with the patented Tempur material. The Sleep Center and The Sleep Gallery mattress stores are authorized retailers of Tempur-Pedic.
Air Beds. These utilize air chambers that can be adjusted to adjust the firmness level. They are typically made from vinyl (much like a pool float) and require a power source to run the air pump required for use. Air beds do have limitations, such as size restraints (most do not come in King), and it is generally advised that infants should not sleep on one for their safety.
Waterbeds. These utilize water-filled bladders or chambers that support your body. Traditional waterbeds typically transfer to much motion, so some prefer a semi-motion or motionless waterbed that incorporates multiple chambers of water. A full motion (referred to as a traditional waterbed) uses one large mattress bladder that uses a large amount of water, which also requires some concern as to where they can be used.
Factoid - The Innerpring mattress was invented in 1871 by Heinrich Westphal.

Study Course 4: Box Spring & Foundation Types. Let's talk a little more about mattress systems and the various types of supports that complete your mattress systems. The first rule of thumb is to use the matching box spring, support base or mattress foundation recommended by the mattress manufacturer. Contrary to popular belief, this is not simply to sell you more products. A sleep system is a complete collection of components designed to work together, which includes a mattress and foundation. It is also the way the mattress is designed and tested during research and development stages, as well as Fire Retardancy testing to ensure FR 1633 compliance Let's review the basic types you will encounter while shopping:
Box Spring/Coil Spring. It utilizes a spring coil system to support the mattress. The springs in the foundation may be matched to the springs in your mattress, making the pair work in unison more effectively, but some suggest this also puts undue strain on the middle of an innerspring mattress, causing sag. Yet, It can also add life to the mattress because some of the impact (from sitting on it) is transferred to the box spring, so the mattress doesn't absorb 100% of the force from impact. Box Springs add a lot of money and are typically only used on more expensive mattress systems. A coil box foundation does provide a softer feel than a rigid box foundation, which many prefer. These are commonly offered in matching fabrics to compliment your mattress aesthetics.
Posture Box/Rigid Box. Unlike a coil box, a rigid box has no moving parts and will not absorb any pressure from the mattress. This type of box is commonly used with No-flip mattress designs as well as all-foam mattresses. A No-flip mattress is engineered to lay on a flat, solid, level plane, allowing each coil to effectively and equally support each part of the body. By doing this it avoids inadequate, uneven support from coils resting at varying levels. Whereas, most foam mattresses are weight-sensitive, the rigid box enables the foam mattress to support different parts of the body properly and to maintain proper spinal alignment, allowing the surrounding muscles to relax, alleviating built up tension.
Semi-Rigid Box. This type of foundation blends the sturdy support of a rigid box with some give offered in a coil box. It does not use metal coils for support but does use some metal attached to the wooden slats to offer a little more give than a rigid box. These will also be commonly offered in matching fabrics to compliment the look of your mattress.
Power Bases/Motion Bases. This type of foundation offers a wide range of features and options. Not only will they raise and lower the feet and head, they can be equipped with other therapeutic benefits, like massage. Models vary greatly, as does cost, so try several models and determine which features matter to you. You will also need to match up your adjustable base with a compatible mattress since not all mattresses are adjustable friendly or able to be used with power bases. The mattress must be able to articulate without damaging it and the bases' weight capacity must be sufficient for the mattress and its users, so everything does need to be paired up properly. This is where shopping at an experienced sleep specialty store benefits you greatly.
As you can tell, not every mattress foundation is created equally. You have many choices and several factors will determine which one ideally suits your needs. By matching the components properly, you will gain the best sleep system and retain the most use from it. When you visit one of our sleep specialty stores, you can rest assured we will keep all of this in mind and help you make an informed decision that will serve your long term needs the best. It is what we pride ourselves on and something we take very seriously.
Most of these mattress support foundations come in various heights. Since many newer mattresses are made thicker, you can adjust the overall finished height by altering the height of your foundation and even the height of your frame. Frame you ask? Yes, you need a frame or a platform, too.
Bed Frame. The bed frame is the final component of your sleep system. To complete your sleep system, you need a mattress, foundation and something to support these elements, which is the bed frame. Typically used is a metal frame with four posts for a twin or full, five for a queen and six for a king, and some type of feet, either glides or rollers. Glides being saucer shaped and better recommended for carpet, while rollers are better served on a hard surface. A frame can can come in various heights to help you obtain the ideal overall height of your sleep system. Some people like to sleep low to the ground while others like to sleep way up high. Our sleep consultants can provide assistance in getting your sleep surface height just right for you.
Platform Bed. As with varying likenesses in height, some people prefer a platform bed over a frame. A platform bed can have additional storage under it, like drawers.
As the mattress experts, we offer many options in frames and foundations to best accommodate you and your needs. There is no one size fits all with us, and there certainly is not one for you!
Factoid - Pairing the proper foundation to the mattress will bring the best sleep.

Study Course 5: Mattress Measurements. Let's talk a little more mattress sizes. You may not realize it, but the size of your mattress does affect your sleep quality. It can even be one of the more important aspects of a quality nights rest. Having plenty of room for each person means having a little more room than the bodies sleeping on the mattress. If you are too cramped it will derail your night, so make sure you have a sleep surface that is longer and wider than you and your sleep partner with enough room to move around a little, too. Anything that interrupts your night's sleep is detrimental because it forces you to restart your current sleep stage. If your sleep cycles are constantly interrupted and restarted, this means you're not obtaining your deepest level of sleep, Stage 4, R.E.M. Sleep.
Twin. A standard twin mattress measures 39" X 75". This is the most commonly used size for children's sleep products like bunk beds. Some single adults prefer a twin size mattress, too. Twin mattresses are often referred to as singles and are the standard size for daybeds.
Twin- XL. A standard twin-xl mattress measures 39" X 80". XL is an abbreviation for extra-long and provides an extra 5" in length to accommodate taller people. These are made to the same length as a queen or king mattress. And are typically used for "twin sized" adjustable mattresses and power bases.
Full. A standard full mattress measures 54" X 75". Standard became their name when they were "the standard" for bedrooms of the past, which were much smaller in size. Now they are generally considered too small for two adults to sleep on since they provide less space than two twins. They are sometimes referred to as double or standard beds.
Full XL. A Full XL mattress, measures 54" X 80". While not the most popular size, it is used for Adjustable Sleep Systems to maintain the width of the Full but allowing the extra length that would be otherwise lost, when the head and feet portion are raised.
Queen. A standard queen mattress measures 60" X 80". This is the new norm of today, providing a good amount of space for two adults to sleep. This is the most popular size sold today.
King. A standard king mattress measures 76" X 80". When you have a large enough bedroom, a king size mattress will provide a luxurious amount of space for two adults and the family tag-alongs. A typical king is properly referred to as an Eastern King.
California King. A standard Californian king mattress measures 72" X 84". This mattress offers all the advantages of a king, but is made extra-long for taller people. Sometimes, California Kings take a little longer to arrive, and not all mattress manufacturers offer each model in this size. While many believe California King is the largest size available, it actually offers 32 square inches less of surface area, than the Eastern King.
Along with these standardized sizes, some manufactures will custom make a few models in custom sizes for campers, cribs, antique beds, yachts and other sleeping environments. We can often get you a custom-sized mattress, so please seek our help if you need it. We can also order some mattress models in custom shapes. We always do our best to accommodate any need.
Factoid - Fariello Materassi built the world's largest mattress with 40,000 coils.

Study Course 6: Sleeping Styles. Let's talk a little more about sleep styles and/or sleeping positions. By now you should realize that many factors affect your quality of sleep, and this holds true with your sleeping style, as well. Your sleep style will determine the best sleep system for you and help determine the pillows needed. Research has even been able to determine mental and physical status based on your sleep style. There are generally six sleeping positions. Let's review them below:
Fetal. This is the most popular sleep position overall, and most common for females. A side sleeper curls up like in the womb.
Log. This is the second most common sleep position. As a side sleeper, the person lies on their side with their arms down the side.
Yearner. This is the third most common sleep position. As a side sleeper, the person lies on their side with their arms laid out front of them.
Soldier. Coming in fourth place as a preferred sleep position, a back sleeper lies on their back with their arms lying to their sides.
Freefall. Coming in fifth place as a preferred sleep position, a stomach sleeper lies on their stomach, face down, with their arms extended above and their hands on pillows.
Starfish. This is the least favored sleep position, a back sleeper lies on their back with their arms extended above and their hands on pillow.
These are the six most common sleep positions, and there are certainly variations of these. You should know your sleep position when you are shopping so that we can best fit you to your new sleep products. It is important that you try out a new mattress in the showroom in the sleep position that is normal to you. While shopping, remember that the goal is to gain optimal sleep for your mental and physical health. You will spend more than 1/3 of your life in bed and your health greatly depends on you getting restorative sleep, which can only happen with several factors being in alignment. Our sleep consultants understand this quite well.
Factoid - Your sleeping position helps to determine the best sleep system for you.

Study Course 7: Health & Sleep Connection. Let's talk a little more about how sleep is directly tied to your overall health. If you have reached study course #7, you have make a great investment in educating yourself and we congratulate you for that. By you taking this time before entering our mattress showrooms, you will be ready to make an informed decision and help the mattress experts pair you to your ideal sleep system.
Brain Development. When we sleep, our brains are building and strengthening the connections between its left & right hemispheres. As you can imagine, this is vitally important for living a healthy life, affecting learning, speech, memory and your creativity.
Weakened Muscles. When you are tired, you are weaker and become fatigued easier. Your muscles demand restorative sleep to function properly and consistently. Sleep is the key to winning the race, lifting more weight, moving at your best in all activities. Sleep great, live a great life.
Weight Gain. When you do not sleep well, you are more likely to have weight gain and/or fluctuations in weight. Obesity is directly related to weight-related issues. Getting the right amount of sleep will help you lose the extra pounds and feel better overall.
Immune System Dysfunction. A lack of sleep increases inflammation and decreases the ability of your immune system to fight infections and attacks on your general health. In most studies, it has been proven that those that sleep well catch less colds and spend less time being sick.
Diabetes. Sleeping less than 5 hours per night brings about a higher risk of Type 2 Diabetes. When you do not sleep properly, your blood sugars do not stabilize properly and your body cannot control the sugar levels to it's best ability. Your body needs restorative sleep to maintain itself.
Cardiovascular Disease. By restricting your sleep, you are restricting your body's ability to regulate many critical elements within your body, and increasing your chance of cardiovascular diseases like strokes, coronary heart disease, irregular heartbeat and premature death. No matter what, you owe it to yourself to get ideal & optimal sleep each and every night.
In conclusion, we care about your health, your sleep, and our relationship with those life elements. We will not sell you anything without considering all of these factors and putting your needs first. It is one of the many traits that makes us the mattress experts and allows us to have such happy and restful customers that love to brag about us.
This healthy relationship is important to your success in life, and ours, too. We will always take the time to care for your health and sleep needs and we encourage you to visit one of our stores today. Let us give you a free sleep consultation and allow us to wow you with our true customer-first shopping experience. We are the mattress experts!
Factoid - In 1964 Randy Gardner stayed awake for 264 hours & 12 minutes.