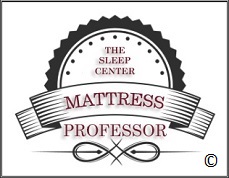 Mattress Professor. America's Mattress Educational System. Let's get started!
Store Directory
How Can We Help

We are here to help, so please let us know what we can do to make your dreams come true
!
Customer service is a high priority with us and we want you to be happy with your purchases. We believe you deserve great care by our experienced staff when shopping for mattresses and bedding accessories, and we will deliver on that promise. Let us pamper you today!
We Make Shopping Fun
We know that shopping for a new mattress or bedding accessory can be overwhelming & tiring!
We want to help you have fun while learning about the new technologies, and cut through the tech talk to the real facts about comfort versus support; different material types, and the reasons they are used in the bedding world!
Mattress Glossary
Welcome to the Mattress Glossary, part of the mattress learning system by The Sleep Center Mattress Superstores!
When you understand what is being said to you, you feel more confident and can take a more active role in shopping for your new sleep system and/or sleep related products. We want you to be an educated consumer and feel you will enjoy the process, too.
If you need help with gaining a deeper understanding of any of these mattress industry terms, or anything related to getting a great night's sleep, please contact one of our mattress showrooms for professional and experienced care. We are here for you!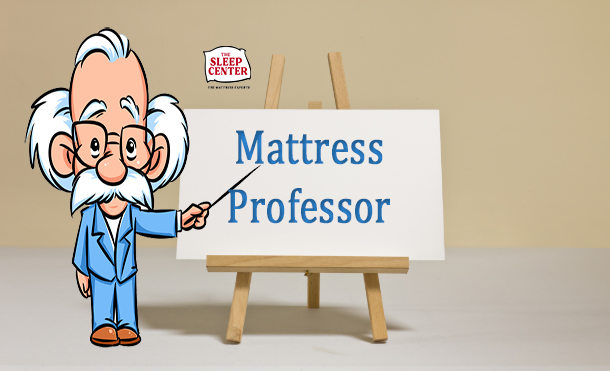 A
Adjustable Bed. A type of foundation that articulates to adjust the position of different areas of your body, like raising your head or lowering your feet position. This is done by utilizing an electric motor, which makes it also referred to as an Electric Bed. Many call them a Hospital Bed, which is a variation of a typical household adjustable bed (also known as a motion base).
Anti-Microbial Fiber. A product that has been treated to prevent the growth of mold, bacteria, and fungi. Can be beneficial for controlling dust mites, too.
Allergen. A substance that cause an allergic reaction.
B
Bamboo Fabric. A very soft, breathable, and durable natural fiber made from the pulp of bamboo plants. Great for mattresses and offers antimicrobial properties.
Batting. Multiple layers of cotton felt.
Bed Frame. A metal frame that holds the foundation and mattress in position and connects to the headboard and footboard.
Bed Rails. Metal or wood support brackets that connect to the headboard & footboard and support the box spring.
Bio-based Products. Products (excludes food or feed) that are made from biological products, like plants and other agricultural materials.
Bladder. A part of a waterbed system, namely the mattress that holds the water.
Blended Latex. A type of Latex produced from a blend of natural and synthetic latex.
Body Impressions. Indentations on the surface of the mattress resulting from the normal compression of mattress Quilting and Cushioning layers over time. Body impressions are normal and typically dissipate over time. Proper flipping and/or rotating the mattress will prevent most.
Bonnell Coil. The first innerspring mattress coil, and uses a round, hourglass shape.
Border Rod. The heavy wire that surrounds the perimeter of a box spring.
Border Wire. A strong wire that connects the coils around the perimeter of the mattress to provide edge stability.
Box Spring. A type of foundation using a wood frame and possibly springs to support a mattress. Sometimes referred to as a foundation.
C
California King. A size of mattress that is larger than a standard king (Eastern King). 72" x 84".
California Queen. A size of mattress that is larger than a standard queen. 60" X 84".
Certified Organic. Refers to a product made with certified organic materials. The Global Organic Textiles Standards handles this for materials used in all bedding products.
Certified Organic Mattress. A mattress made with materials certified organic, free of chemicals and other pollutants.
Coil Configuration. Defines how coils in a mattress are arranged.
Coil Count. The number of individual coils in a mattress.
Coil/Coil Springs. A type of support system used in a mattress. Specific coil designs include Bonnell, Offset, Marshall and Continuous. Each coil type offers unique properties for support.
Comfort. A description that refers to the way the surface of the mattress feels against your body.
Comfort Layers. The internal layers of a mattress that complete the core and utilize various materials types and thicknesses to achieve desired comfort.
Continuous Coil. A type of coil design used in a mattress where each row of coils is constructed from a single wire.
Convoluted Foam. A type of foam design that looks much like an egg crate.
Core Support. The internal layers of a mattress that complete the core and utilize various materials types and thicknesses to achieve desired support.
Cotton. A soft, breathable and natural fiber.
Cover. The decorative fabric used to cover the inner layers of a mattress or box spring. Same as ticking.
Cushioning. Layers of material that sit between the Insulation and quilting layers of a mattress.
D
Damask. A mattress cover that utilizes a design stitched into the it, instead of being printed.
Daybed. A type of bedding system that doubles as a sitting area, most often uses a twin size mattress. Some come with a pop-up trundle unit for additional space.
Density. The weight per cubic foot of foam. and considered an important characteristic of foam mattresses.
Double Bed. A size of mattress. Same as a full size. 54" X 75".
Double Ended Frame. A bed frame that accommodates both a headboard and footboard.
Double Heat Tempering. A process where coils are heated, cooled, and then heated again, offering additional durability and resiliency in metals.
Dunlop. A process in which liquid latex is whipped with air until it becomes wet foam.
Dust Mites. Microscopic creatures that feed on dead skin cells and evade a mattress. A mattress protector greatly reduces their ability to thrive.
Durability. Refers to the length of time a product will provide adequate & proper use.
E
Edge Break-Down. Refers to the loss of support along the outer edges of a mattress.
Edge Coils. Special coils placed along the edges of a mattress for additional support.
Egg-Crate Foam. The same as convoluted foam.
Egyptian Cotton: Fine cotton woven from the longest, softest, and strongest fibers.
Elasticity. A term that describes the resiliency of a material or product.
Electric Bed. Same as an adjustable bed.
Environmentally Friendly. Used to declare that a product or service has not harmed the environment, but can be loosely applied without concern.
Euro-Top. The upper-most comfort layer of a mattress, much like a pillow-top, but tighter in design.
F
Fatigue. Refers to the breakdown of a product that will no longer provide adequate & proper use.
Fiber. Small strands of materials used to build up a layer of a mattress.
Fiber Filling. Additional dampening materials added inside a waterbed to change the comfort level.
Fill Level. The proper amount of water to fill a waterbed to.
Filler. Any extra material used to build up the layers of a mattress that offer benefits to the other materials used for comfort or support.
Fire Retardant. A chemical treatment applied to a mattress in order to reduce its flammability.
Firmness. A description of how much resistance a mattress applies to body weight and the resulting give of the mattress surface.
Flipping. The procedure of periodically turning over and/or rotating a mattress for proper care.
Foam. A material made from polyurethane or latex. A support layer within a mattress used in place of innersprings.
Foam Core. Slab of Foam that sits below the surface layer of a mattress, serving as the main support system.
Foam Encasing. Foam blocking used within the mattress for additional support, like along the edges of a mattress.
Footboard. A type of decorative or functional furniture that sits at the foot of the bed.
Foundation. Refers to the box spring or support unit for a mattress.
Frame. Typically refers to a bed frame that supports the box spring.
Full. A size of mattress. Same as a double. 54" x 75".
Full Extra Long. A size of mattress that is longer than a standard full size. 54" X 80".
Futon. A Japanese inspired sleep system that serves as both a bed and a sofa by utilizing hinges and brackets to lay flat or sit upright. There are many variations in futon frames and futon mattresses, and each item can be bought separately.
G
Gauge. The measurement of the thickness of the wire used in a coil. The lower the gauge, the heavier the wire.
Green. A term generally intended to mean that a product will not harm the environment.
Grid. A type of construction used in a box spring consisting of a steel lattice design.
Gusset. A squared off edge to add strength to furniture.
H
Hard-Sided Waterbed. A type of waterbed with a wooden frame for the bladder to sit in.
Headboard. A type of decorative or functional furniture that sits at the head of the bed.
Helicals. A small, spiral-shaped wire used to connect coils in an innerspring unit.
High Density Foam. A type of foam that is especially dense and durable.
High Resilience Foam. A type of foam that has superior resilience, comfort, and durability.
Hog Ring. A metal ring or staple used to attach the cover and insulation to the innerspring unit.
Hospital Bed. The same as an adjustable bed.
Hybrid Mattress. A mattress that combines foam and innerspring support systems.
Hypoallergenic. A term that describe objects and material that does not provoke an allergic reaction.
I
Indention Load Deflection. Measures how much weight it takes to compress a sample of foam to 75% of its original height or thickness.
Independent Coils. Coils that work independent of each other, which limit motion transfer.
Inner Quilt. Refers to the traditional layer of quilting in the upper layer of a mattress.
Inner Tufting. A type of attachment method for padding layers in a mattress.
Innerspring Mattress. A mattress that uses metal coils as its support system.
Innerspring Unit. Parts of a innerspring mattress, namely the coils, helicals and rods.
Insulation. Material used on top and bottom of an Innerspring unit to prevent the upholstery layers from settling down into the coils.
J
Jacket. The same as a cover.
K
King. A size of a mattress. 76" x 80".
King Split. A mattress set that consists of two twin-xl. 78" X 80".
Knit. A type of mattress cover fabric.
L
Latex. A spongy material produced from either natural or synthetic rubber.
Latex Foam: A natural and antimicrobial foam that provides durability, support, and resilient comfort.
Low-Profile Foundation. A type of foundation made shorter than normal to help offset a taller mattress to lower the overall height of a sleep set.
M
Marshall Coil. A type of coil in an innerspring mattress. Same as a pocketed coil.
Mattress Handles. Located on the side of a mattress to help slide it on the foundation. These are not for carrying the mattress, unlike popular belief.
Memory Foam. A type of high-density polyurethane foam known for its slow recovery time and its sensitivity to both weight and temperature, giving it a delayed resiliency, same as visco-foam.
Migration. Term that refers to the displacement of Fibers within a mattress over time.
Motion Separation. Limiting how much motion is felt from one side of the mattress to the other.
Mulesing-Free Wool. Wool from a sheep that has not been subjected to a controversial surgical task that is intended to protect the sheep from disease.
Multi-Needle Quilting. Quilting process that uses multiple needles but features a continuous pattern, same as continuous quilting.
N
Natural. Refers to materials in a product come from natural sources (i.e., extracted directly from plants or animal products), rather than synthetic.
Natural Fibers. Fibers that come from a plant or animal, such as cotton, wool, silk, or bamboo.
Natural Latex. Type of Latex produced from serum of the rubber tree.
No-Flip Mattress. A type of mattress made single-sided and therefore cannot be flipped.
O
Off-Gassing. The evaporation of chemicals from a material into the air.
Offset Coil. An innerspring mattress coil that has an hourglass shape similar to a Bonnell Coil, but with squared edges to provide more flexibility and enhanced body contouring.
Olympic Queen. A mattress size that is larger than a queen. 66" X 80".
Open Coil. Same as an Bonnell Coil.
Organic. Refers to an agricultural product that has been grown, raised and/or harvested in accordance with specific governmentally-regulated standards.
Organic Cotton. Cotton grown using farming methods that have low impact on the environment, and no pesticides or synthetic fertilizers.
Organic Mattress. A mattress made with natural materials, designed to minimize exposure to harmful chemicals or other irritants.
Organic Wool. Wool that is produced in accordance with U.S. federal standards for organic livestock production.
P
Pedestal. A type of foundation used with waterbeds.
Pillow Protector. A covering, like a mattress protector, but for a pillow.
Pillow-Top. A mattress design that features an extra layer of comfort padding on the surface of a mattress.
Pincore Holes. Deep, cylindrical holes spread throughout a Latex mattress to help soften its feel.
Platform Bed. Type of a foundation, made solid and often with storage areas.
Plush/Plush Top. Similar to a pillow top in feel, but the extra layers of padding are less visible because they are built into the surface rather than layered on the top.
Pocketed Coils. Flexible high carbon coils enclosed in a flexible fabric pocket to relieve pressure and block the transfer of motion between sleeping partners. A product of Simmons Bedding Co.
Pocketing. Describes a type of mattress wear when the fabric layers settle into the coils.
Poly-Box. A type of foundation.
Polyurethane Foam. A flexible, durable and resilient material used in a variety of products for cushioning.
Post-Consumer Recycled Material. Materials reused from finished items.
Posturized. Vaious types of additional support placed in the center of a mattress or foundation.
Pre-Consumer Recycled Material. Material scraps from the manufacturing process and incorporated in the product.
Pressure Points. Areas of the body that bear the most weight and pressure when lying down.
Promotional. A special mattress set or model offered at a reduced cost.
Prorated Warranty. Mattress Warranty that does not cover the full mattress purchase price or replacement value, depending on the use and other factors involved.
Pure Latex. A 100% latex product with no fillers.
Q
Queen. A size of a mattress and the most common mattress in use today. 30" X 80".
Queen Split. Bed that consists of two mattresses, each 30" wide x 80" long.
Quilting. The upper layer of a mattress where a comfort layer is stitched to ticking layer.
R
Recovery Time. Term used to describe the speed (or lack of speed) with which a material (typically Foam) returns to its original shape after being compressed.
Recyclable. Term used to indicate that a product and/or its components can later be re-used.
Recycled Material. Material that has been diverted (pre-consumer or post-consumer) from the landfill and re-processed
Renewable. Manufacturing materials that are renewed naturally, such as wood and plant-based fibers and other natural elements used in the construction of furniture.
Resiliency. The ability of a foam surface to spring back to its original shape. Sometimes referred to as a springiness design.
S
Safety Liner. A safety liner used in waterbeds to contain any leaks.
Sagging. Refers to the loss of support in a mattress. This is often confused with body Impressions.
Semi-Fowler Position. A reclining position wherein the back rests at a 45-degree angle.
Semi-Waveless. A Waterbed bladder/mattress that contains a small amount of fiber in the water to reduce the motion by roughly 50% relative to that of a free flow waterbed.
Set. Same as a sleep set.
Single Bed. Same as a Twin mattress. 39" x 75".
Single Extra Long. Same as a Twin XL mattress. 39" x 80".
Single-Needle Stitching. When all the layers of a mattress are stitched together, versus stitching each layer separately. This results in a harder sleep surface.
Sleep Set. A mattress and foundation priced/sold together.
Smooth Top. A non-quilted mattress cover or upper layer.
Soft-Sided Waterbed. A type of waterbed designed much like a traditional mattress but with water channels for support. Traditional sheets will usually fit and the motion is greatly reduced.
Spring Mattress. The same as an innerspring mattress.
Spring Wire. The raw material used to make the coil of innerspring mattresses.
Super Single. A special sized single/twin bed that is longer and wider than a single/twin. 48" X 84".
Support. Refers to how a mattress distributes and stabilizes body weight while maintaining proper body/spine alignment.
Synthetic. Material made by a chemical process, rather than created in nature.
Synthetic Fibers: Man-made fibers such as polyester and acrylic.
Synthetic Foam: A polymerized cellular material made from an organic base other than rubber.
Synthetic Latex. Type of Latex that shares many of the same physical properties as Natural Latex, but is made through a chemical process using petroleum-based materials.
T
Tack and Jump Quilting. A non-continuous stitching/quilting pattern that creates a softer feel.
Talalay. Process in which liquid Latex is whipped with air until it becomes wet foam, then formed and vulcanized to create a soft foam structure, such as a mattress.
Tape Edge. The cord-like seam that runs along the edges of the mattress surface
Tempering. Process by which Coils are treated to ensure that they return to their original shape and height after compression, improving their Durability and Resiliency.
Thread Count. A measurement of the number of threads per square inch of fabric.
Ticking. The cover of a mattress, such as knit, damask or other fabrics.
Tight Top. A mattress without a pillowtop or eurotop construction.
Torsion Bars. Wire bars bent within a foundation to support an innerspring mattress.
Torsion Module Foundation. A variation of a foundation that utilizes torsion bars for added support.
Tufting. Stitching that is used to hold layers of a mattress in place.
Twin. The same as a single bed size. 39" X 75".
Twin Extra Long. A twin size mattress made the length of a queen or king. 39" X 80".
U
Ultra-Waveless. A waterbed with baffles or dampening material to lessen the motion of a waterbed.
Upholstery. The upper layers of a mattress, such as ticking, cushioning, and quilting. These layers are often the comfort layers on a mattress construction.
V
Ventilator. An opening in the side of a mattress to promote better air flow within the mattress.
Visco-Elastic Foam. Another term for memory foam.
Volatile Organic Compounds. Gas emissions from materials used in the construction of products.
W
Wall-Hugger. Holds the placement of motion furniture against the wall versus pushing the item outward when lowering or raising the item, such as an adjustable bed, recliner, etc.
Warranty. A manufacturers' agreement of terms covering defects, flaws or issues, along with what is not covered by them.
Waterbed. A mattress filled with water for support, either in a bladder, channels or pockets.
Whisper Quiet. Refers to a special housing in motors (waterbeds, Adjustable Beds, Air beds) to quiet the sound.
Wool. This is often used in the upper layers of a mattress, such as in the upholstery layers.
Working Turn. This has to do with how tightly a coil is wound.
Wrapped Coil. Wrapped coils are the same as pocketed coils.
X
Y
Z